Christchurch Park, Ipswich, 29th July 2000
Set List
I Can't Let Go / Here I Go Again / Jennifer Eccles / Bus Stop / I'm Alive / Sorry Suzanne / Yes I Will / Just One Look / On A Carousel / Blowing in the Wind / Carrie Anne / Stop Stop Stop / The Air That I Breathe / He Ain't Heavy, He's My Brother / Blackberry Way / Long Cool Woman in a Black Dress
At 9.15pm The Hollies took to a dark stage to the strains of Vangelis. Opening with I Can't Let Go Carl was immediately at home and winning the crowd over as only he can. Clad in black leather trousers and "smiley" T-shirt his voice really did justice to the string of hits that followed.

Up-tempo numbers such as Bus Stop, Here I Go Again, Jennifer Eccles and Sorry Suzanne were delivered with ease with Tony Hicks and Alan Coates providing strong backing, Carl and Tony's voices blending particularly well.
For Carrie Anne and On a Carousel Carl played percussion; the harmonies were spot-on throughout and it was clear that the band had been working extremely hard to perfect them.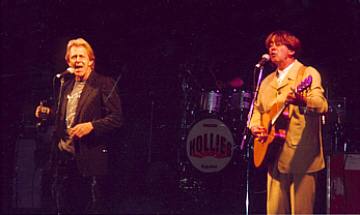 Bob Dylan's Blowing in the Wind was moody and atmospheric, Carl's soaring voice conveying the message perfectly. In contrast, the quirky Stop Stop Stop brought us a first class performance on the banjo by Tony and the removal of Carl's jacket!

Towards the end of the set, the biggest hits He Ain't Heavy, He's My Brother and The Air That I Breathe were revived. These really enabled Carl to demonstrate his vocal talents to the full and he gave a unique interpretation of each.
Blackberry Way was the penultimate number, a real treat for the Move fans in the audience, and which had the crowd singing along. A rocking version of Long Cool Woman in a Black Dress concluded the hour-long set and the band took their bows and left the stage to thunderous applause from the crowd. This was a great night and I am looking forward to seeing the full length show in the comfort of a warm dry theatre!
Review and photos: Helen Macdonald