Lynne Me Your Ears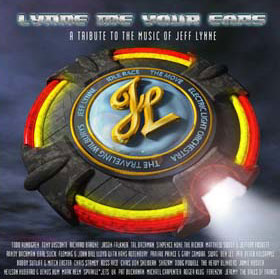 "A Tribute To The Music Of Jeff Lynne"
(Not Lame Recording Company NLLYNN1)

"All good songs are made to be interpreted. ELO perhaps give the definitive versions of Jeff's songs but somebody else can come along and give a different interpretation and it's equally appealing. What attracts me about Jeff's songs is that they all have a certain sadness, a soulful feel."


Carl on his cover of "Steppin' Out"

A stunning collection of songs encompassing the exhilarating career trajectory of songwriter, producer, singer, guitarist, multi-instrumentalist and music visionary, Jeff Lynne.

This 2CD 32-song tribute showcases Lynne's music from the 60's and 70's with The Idle Race and The Move, through the global superstar years of the 70's and 80's with Electric Light Orchestra, to his more recent work as a solo artist and producer and as a member of the legendary Traveling Wilburys.

Lynne's 36-year hit-laden musical career has inspired a diverse cross-section of talented performers. Every tribute artist involved presents Lynne's incomparable fusion of classical music and classic rock 'n' roll to a new, younger audience in an innovative, vibrant and sometimes radical manner:

"Highlights are p-Lynne-tiful, from departures like Todd Rundgren's adult contempo-electronica 'Bluebird Is Dead' to Brit Invasion revivalists who put a rockin' move on ELO material, a la the Shazam's 'Twilight.'" (Entertainment Weekly, April 26, 2002)

See below for a complete track listing, plus an interview with Carl Wayne in which he talks about interpreting Jeff Lynne's songs. Here's what some of the other artists had to say about their contribution to "Lynne Me Your Ears":

Todd Rundgren
BLUEBIRD IS DEAD
"Everyone knows I've been a Jeff Lynne fan ever since Utopia started covering Do Ya 25 years ago. Glad to see I'm not alone."

Jason Falkner (Jellyfish, Air)
DO YA
"...I didn't have a lot of time, because this whole year I've been devoted to playing with this group Air. The Do Ya thing, I had like 3 or 4 days off here, and I just had to go for it. There was a time when I thought I wasn't gonna be able to do it. I was getting ready to go back to Europe. Yeah, it just came together like that. Do Ya was not my first choice. I was talking to them about doing Eldorado, or it was something that was a little more of an obvious choice for me. Well, they were like, 'well we kinda thought that if you want to do Do Ya, we've been kinda saving that for you.' And I listened to it and I was like, 'My God, yes of course!' 'Cause I hadn't listened to that in a long time."

Tony Visconti (David Bowie, T. Rex, assistant producer on The Move's "Shazam")
MR. BLUE SKY
"I have a vague recollection that when Roy Wood and Jeff were forming ELO or Wizzard (there's the vagueness) I was asked to play keyboards because I did a lot of string arranging for The Move. I had to disappoint them by saying that I wrote on guitar then, not keyboard and I could just barely get through Whole Lotta Shakin' Goin' On on piano. But Mr. Blue Sky was a favorite of both Bowie's son and my son when it came out, so it was played to death in our homes. I ended up loving it very much and gaining deep respect for what Jeff had achieved since his early association with Roy."

Peter Holsapple (The dB's, Continental Drifters)
NO TIME
"Jeff Lynne's music, from the Idle Race 'til now, has always struck a responsive chord in my mind. He's like the ultimate Beatles/Kinks fan who writes and produces evocatively. Like Nick Lowe, he is a master of absorbing the best elements of the best music and turning it into his own. I'm really proud to have been asked to do a track for Lynne Me Your Ears. The CD is interesting to me as a canon of the man's work, all together from his various bands and projects. The tracks move seamlessly and present Jeff's music respectfully and inventively. (Of course, it takes a couple of geezers like Carl Wayne and Tony Visconti to blow the socks off everyone else on the record!) Sign me up for Volume 3."

Hans Rotenberry (The Shazam)
TWILIGHT
"This was a HARD call. We'd have been pleased to do any Jeff Lynne song - we know 'em all! In the end, it was a choice between Imposters Of Life's Magazine by The Idle Race or ELO's Twilight. Twilight won because it's become The Shazam's theme-song - it's the first track we ALWAYS play on the bus when we begin a new tour. Twilight has everything I admire and respect about ELO in that one song - I LOVE THAT SONG!"

Click here to read Carl's interview on Jeff Lynne and his cover of "Steppin' Out".